West Valley Pawn and Guns is the premiere pawn shop in Avondale, Goodyear, Glendale, and West Phoenix that you'll find.  A pawn shop is the one stop shop for individuals to get cash when they need it.  A pawn shop specializes in anything valuable.  While the majority of this time this is jewelry and electronics, it can also include items like watches, antiques, coins, and guns.  West Valley Pawn and Guns is here to help customers get the cash they need when they need it.  We have the unique ability to both buy and pawn anything of value, as long as it can be resold.  No matter the situation, no matter the circumstance, our Avondale pawn shop will put cash in your pocket.  As long as you have items that have value, you have a way to get cash!
Pawn Items of Value
Securing pawn loans is our bread and butter at West Valley Pawn and Guns.  This is the main service that our customers from Avondale, Goodyear, and West Phoenix come seeking.  Our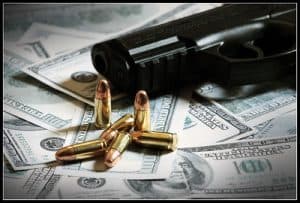 experienced pawnbrokers inspect whatever items the customers bring in and evaluate their current market value.  Based on this, we make a cash offer and when you accept, you've entered into a pawn loan.  From start to finish, it takes as little as five minutes.  When it's done, we put cold, hard cash right into your hand.
The beauty in our pawn loans is that literally anything of value can be exchanged for cash in your pocket.  While West Valley Pawn and Guns obviously specializes in guns, shotguns, rifles, and pistols, everything from jewelry to gold to coins to electronics are good for cash at our store.  The best part is you can simply walk in, and pawn your item in minutes to get your cash.  There is no easier way to get the fast cash you need in Avondale than at our pawn shop.
Sell Your Goods As Well
If you don't want to have to worry about a pawn loan payment 90 days down the line, then that's alright too!  When our pawnbrokers evaluate all items, we come up with both a loan price and a sell price.  There's no obligation to take out a loan on your item whatsoever, West Valley Pawn and Guns will happily purchase the item from you and pay you the cash you deserve.  With many things, we can even pay you more cash for selling them!  From Glendale to Avondale to Goodyear, West Valley Pawn and Guns is here to put cash in your pocket no matter the circumstances.
Shop Our Ever-Expanding Inventory
Due to our business, we're home to some of the largest inventory of jewelry, electronics, and guns that you'll find in Phoenix.  These come at some of the best prices you'll find, and our workers tirelessly work to ensure they're all in excellent condition when they hit our shelves.  You will find valuable items at a reasonable price.  For instance, a gold necklace, used TV, used computer/tablet, than you will at West Valley Pawn and Guns.
So what're you waiting for?  Come visit the best pawn shop Avondale has to offer.  If you need cash for your guns today, then come pay us a visit.  You can reach us via text at (623) 263-1555, through our live chat at the bottom right of the screen, or by giving us a call or visiting the store.  We're here to give our customers the cash they need and deserve, so let us help today!