When it comes down to tactical gear, it is hard to consider actually selling it.  Whether it's your ballistic helmet, body armor, tactical watch or whatever it is, selling is not an option.  That gear is for protection, and has been something that has taken time to acquire as well.  That's where West Valley Pawn and Guns can offer an option.  Use your valuables to pawn tactical gear on a 90-day loan, and have them returned to you when the loan is paid off.
Pawn Loans & Valuations
A pawn loan is based on the valuation of your items, which is the "principal" of the loan.  All of our appraisals for firearms and tactical gear are conducted by our manager.  With this background of skills and experience of assessments, you will receive a professional appraisal from West Valley Pawn and Guns.
First, he will ensure that all functions of the tactical gear are in working order.  Followed by, looking over the exterior of the gear.  This is based on how appealing something is and making sure it is not significantly flawed in any way.  Finally, he references to what the current resale value of the make and model goes for.  Once all of this is determined, a cash offer is presented to you!
While all of our appraisals are free of charge, we also assure there is never an obligation to accept our offers.  We are confident that even if you seek a second or third opinion, you will find our offer beats our competition!
When an offer is accepted, all we need is a valid and current ID, a few signatures and you will leave with the cash you need.  Your tactical gear will be locked and left undisturbed in our vault until the loan is satisfied.
Tactical Gear – What We Take for Cash Loans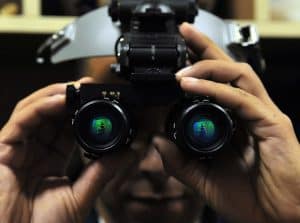 We are happy to offer pawn loans on tactical gear, but we have had to limit ourselves in that endeavor.  While we wish that we could be inclusive to it all, it is not feasible for us to do.  West Valley Pawn and Guns can offer a secured loan on the following items, regardless of make or model:
Range Finders, GPS trackers, Binoculars
Night Vision Goggles
Ballistic & Tactical Helmets
Tactical Belts
Bullet Proof Vests
Armor Panels
High Visible First Response Vests
Terms of  Pawn Loans
All pawn loans are for 90 days.  The loan is based on the principal plus interest that accrues during that time.  You are able to pay it off all at once, or make incremental payments during the contract.  If the loan's balance is paid off prior to the 90-day expiration, the interest will be pro-rated to date.  At the end of the contract, if you are unable to pay off in full, we can help there too!! By paying the interest that is due, we can extend the loan for another 90 days.  We can offer that as many times needed, as long as the interest is paid to date.  Once the loan is paid off in full, we will return your tactical gear back to you!
Contact an associate via live-chat by clicking on the bottom right.  We will be more than happy to answer any questions and start the process on line, before you even enter the store.
Or, text us at (623) 263-1555 with any questions 24/7 and receive the answers quickly!
 Sell, Buy or Pawn
West Valley Pawn and Guns has built an impeccable reputation to be the best pawn shop with the best and highest cash offers in town!  We have served the Avondale, Litchfield Park, and Tolleson communities, whether it is to sell, buy or pawn your firearms or tactical gear!