It's no secret that we take protecting our home and our families very seriously.  As a result, we have invested in a means of safety with having a few handguns and lots of practice. Moreover, it has been easy to accumulate a nice collection as well.  As of recent months, money has become tighter for most of us.  Furthermore, if these recent times have made it difficult to feel financially at ease, we would like to help! Therefore, West Valley Pawn and Guns is the place to go to sell handguns for the most cash possible!
Sell Handguns of any Make and Model to Us!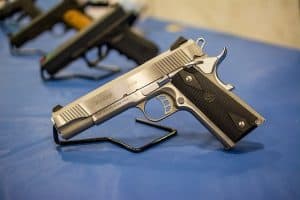 Thanks to Sam Colt, the hand gun was revolutionized in 1836.  To clarify, this was the first handgun that you could load 3 rounds at a time. Which prior to that, you could, at best fire 3 rounds per minute in total.  In addition, this gun gave the owner the ability to change out parts, making firearms more efficient and less costly.
With this contribution to firearms, the advancements of handguns has grown exponentially.  Because of this, at West Valley Pawn and Guns, we have no limitations of the kind of pistols and revolvers we will buy.
Here is a list of the most popular handguns we take:
Glock
Sig Sauer

P320
M17
ECHO3
MCX PROFORCE

Ruger

LCP & LCP II
SR1911
LC380
Redhawk
SP101

Springfield
Smith & Wesson

686
Model 29
Model 442 Pro Series
M & P 2.0
M & P 9 SHIELD EZ

Remington
Colt

Cobra 38 Special
SAA
45 Revolver
Getting the Most Cash from Your Handguns
First and foremost, bring in your handgun to West Valley Pawn and Guns for a valuation.  To determine an offer, we must take into consideration its internal and external condition.  We won't actually fire the gun, but will examine the internals closely to ensure that it will fire correctly.  After that, we will take a look at it in a visual sense.  Making sure that it is appealing to the eye and doesn't have any marks or scratches affecting this aspect.  Finally, we refer to the current resale pricing for the make, model and condition of the handgun.  As a result, these three factors give us the ability to offer the most cash possible!
Here's how to make sure you get the most cash from your handgun:
Bring in your handgun in as pristine condition as possible.  In addition, bring in all accessories, anything and every thing you have for that handgun.  We accept full and complete boxes of ammo as well.  Finally, any receipts of purchase, certificates of its authenticity and original box or packaging.  In the end, these all add to your increase your offer.  At West Valley Pawn and Guns, we are more than willing to buy the gun all on its own.  We also feel that it is important to help our customers in any way possible to receive the most cash from their gun sale.
Going from Cash Offer to Cash in Your Pocket
Once you are presented with our cash offer, it is up to you on whether you accept it.  We are confident that our appraisals are accurate and the best.  Furthermore, that is why all assessments are complimentary and are under no obligation to accept.
Upon acceptance, West Valley Pawn and Guns needs a couple of things from you.  First, a valid and current ID, followed by a few signatures.  Therefore, the whole process can take as little as 5 minutes from appraisal to putting the cash in your pocket!
Start the process on-line before you even arrive by clicking on the bottom right to our live-chat.
Text us at (623)263-1555 with your questions 24/7 and receive an answer quickly!
 SECURE A SHORT-TERM LOAN WITH YOUR HANDGUN!
So consequently, if you are not ready to forego actually selling your handgun, we can still be of service!  In addition, West Valley Pawn and Guns offers collateral loans for your handguns!  As a result, you get the cash you need and once the loan is paid in full, your pistol is back in your possession.
West Valley Pawn and Guns offers ways to get the cash you need and options on how to get there!