Pawn Ammo For Cash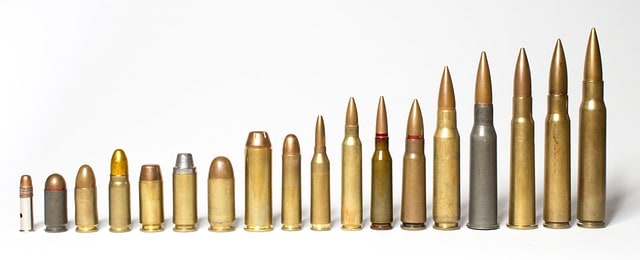 There are times we all find ourselves looking for ways to get extra cash to make ends meet.  Although, that doesn't necessarily mean that we are willing to sell valuables we've worked hard for.  That's where West Valley Guns comes in and can help.  You can come in and pawn ammo in complete and full boxes for the best offers possible.  Moreover, during the loan we secure your valuables in our locked vault.  You will receive them back exactly in the same condition as the day you brought them when you pawn ammo at West Valley Guns!
*We offer pawn loans for ammo that are all the same caliber, complete, and boxed.  We do not make any offers on loose or reloaded bullets.
Pawn Any & All Calibers of Complete Boxes of Ammo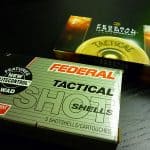 There are many manufacturers with a variety of the size or caliber of cartridges out there.  We can offer short term loans on almost any brand, grain and caliber you have complete boxes of.
We will inspect the boxed cartridges to ensure that they are all of the same caliber and brand prior to being able to provide a cash offer on a pawn loan.  Whether they are .22LR, .380 ACP, 9mm or .40 S & W rounds, centerfire or rimfire bullets, we can offer cash loans on fully boxed cartridges.
Palmetto State Armory ~ CCI ~ Federal ~ Hornady ~ Remington ~ Winchester ~ Fiocchi ~ Black Hills Ammunition ~ & More!
Pawn Ammo With Firearms & Accessories For More Cash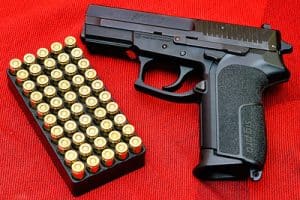 To get the most cash possible in one lump sum, we suggest to bundle your firearm and accessories with the loan when you pawn ammo.  In other words, depending on your financial situation, boxed ammo might not provide enough of the cash you need.  However, if you bundle a firearm, its accessories and the ammo together, it can add up to a stack of cash quickly for a collateral loan.
Each valuable is assessed and refers to its own fair market value separately.  After that, the valuation of each will be added together, and the cash offer will be presented in one lump sum.  Why do this?  Because listing multiple items on one pawn ticket means only having to pay one set of pawn ticket fees.   West Valley Pawn and Guns strives to get you the most cash possible for your pawn loans.
Click on the bottom right to connect with an associate via live-chat.  We can answer your questions and start the process on-line immediately.
Or text us at (623)263-1555 with any questions you have and we will reply with the answers quickly.
Pawn Loan Terms
Our collateral loans are for a 90-day period.  Throughout that duration of the loan, we will keep your property safe and secure in our facility.  At any time during the 90 days you can satisfy your pawn loan and retrieve your ammo and firearms within minutes of doing so.  In addition, there are no penalties or fees ever added for early payment.  In fact, if you pay off the loan prior to the 60th day, we will deduct a redemption discount from the total amount due.  Thereby, costing you less to retrieve your valuable items.
However, if you find yourself unable to pay it off within the 90 days from when you pawn ammo, you do have options.  First, with paying just the interest accrued, we can rewrite the loan, and give you another 90 days to pay it off, and retrieve your ammo and guns.  In addition, this can be done as many times as you need to pay off the loan and receive your valuables once again.  Or, if you find you cannot fees ably pay off the loan, you can opt to forfeit the gun to our store.  Which, will relieve you from any further obligations to the loan and/or the store.
West Valley Guns offers you multiple ways to get the cash you need, including cash to pawn ammo, accessories, firearms and more!!