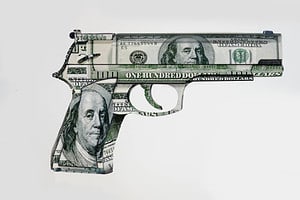 Why pawn guns?  As we all know being survivors of 2020, financial situations can very quickly turn south no matter how good they've been.  When times are good, a lot of us like to buy guns from our favorite gun shops in the West Valley.  What many people don't know is that these bought guns can be your key to finding financial security again, when you are needing cash.  And, you can have your firearm back in 90 days or less, as soon as the loan is satisfied!  The process to pawn guns is quick, easy, and painless, 7 days a week, at West Valley Guns.
Brands to Pawn:  SIG SAUER  –  Glock  –  Smith & Wesson  –  Taurus  – Mossberg  –  Browning  –  Ithaca  –  Ruger  –  Springfield Armory  –  Heckler and Koch – & more!
Pawn Guns For A 90 Day Cash Loan
When you come down for your gun loan in person, our associate will begin with a basic inspection of your gun. No matter if it's tactical gear, a shotgun, rifle, or pistol, accessories, ammo, the process is the same.
Our
professionals check out the cosmetic condition as well as the internals and its working condition. What separates our pawn loans from the rest is how hard we work to maximize your cash potential.  By advising you to bring with you, receipts, paperwork, original packaging, holsters, and more, that can increase your cash value. Lastly, we take a look at the current market value, and your firearms condition, to ensure you're getting the fairest offer possible!
If you accept our cash offer, you just show us your valid ID, sign a few documents, and your gun loan is done!  This all happens in as little as fifteen minutes, and  you're out the front door with cash in your pocket.  Throughout the duration of your loan, we keep your gun safe and secure in our storage facility.  It stays untouched until you're ready to come reclaim it.
West Valley Pawn and Guns pays the most cash for guns in the Avondale, West Phoenix, and Goodyear area by far.  Come and see what our Avondale pawn shop has to offer you when you pawn guns today!
Repaying Gun Loans Is Easy
We understand better than other Avondale gun stores.   However, sometimes financial situations don't improve that quickly. Come the 90th day, if you're not ready to repay the loan in full, then West Valley Pawn and Guns is still here to help. By simply repaying the interest, we are more than happy to help via extending the gun loan for another full 90-day period. No questions, no hassle, and no problems. This is a service we're happy to offer to all of our gun loan customers no matter their situation.
Contact Us First Or Come Down To Pawn Guns
It's never been easier to get a cash loan on your gun from West Valley Pawn and Guns. First and foremost, we have many different ways you can reach out to our gun shop beforehand.  We can help evaluate the options available to you, as well as answer questions you may have. 7 days a week.
Call or text us at (623) 263-1555, or you can also just come right on down to our Avondale pawn shop.  But, if you have any questions, the best option is to click on the bottom right of our screen, to take advantage of our live-chat.  After our assistant answers your questions, you can even begin the process online to pawn guns before you arrive at our store.
Avondale's Best Pawn Shop
West Valley Pawn and Guns is here to help.  Our Avondale customers get cash when they need it no matter the day of the week. If it's time to pawn guns today, then come pay us a visit and get the most cash possible in town. We will do everything in our power to get the money you deserve when you need it.